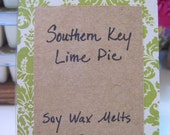 Southern Key Lime Pie: This is the ultimate summer scent with top notes of zesty lime blending with creamy coconut and finishing off with hints of vanilla. Your mouth will wish this was something to eat! Infused with essential lime oil. Phthalate free. Wax color is ivory.
Favorite Fact: I love this scent in my kitchen…in my living room…in my bedroom…anywhere!

It is a happy fragrance that brings summertime indoors…use it in the winter & spring to reminisce of summers past and to anticipate summers to come!
Click Here to Visit My Etsy Shop!